India lives in its villages. And in its villages, live most of India's women. Our women work in the fields, fetch and carry water, bear and rear children, do household chores and cooking, and suffer from poor health and hygiene. The feminisation of poverty has also lead to poor physical health associated with malnutrition. Lack of hygiene during child birth, menstruation, and open defecation.
Menstruation is a taboo word and various rituals demonising the natural female process culturally bind women negating their positive contributions and ostracising them. Most importantly it is the total lack of hygiene during menstruation due to unavailability of sanitary napkins or clean towels and cloth that is a matter of great concern.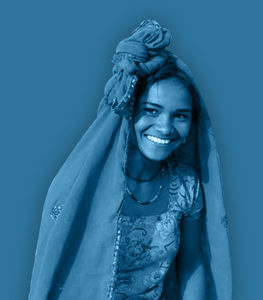 Girls drop out of school once menstruation starts. Leaves, mud, ash, dirty cloth used during this period leads to infections and various other associated diseases. The problem is being addressed by a number of social entrepreneurs.
This International Women's Day, Ms Sunita Gupta, Director, Kent RO Systems Limited, decided she was going to help our sisters in far flung villages. She broke the taboo around the subject of menstruation by speaking unhesitatingly about it to both women and men from all walks of life. Gradually inhibitions dropped as she took the lead to set up a unit run by women and supported by men for packing menstruation cloth and traditional underwear (langot) to women and girls among remote communities. The softest cotton material is procured and hand stitched and packed. Thus, reusable and washable and hygienic.
On the 20th Day of March 2017 some of us sat down and made our first batch of handmade sanitary towels as our commitment to our sisters and daughters. Our first recipient of six hundred packs of fifteen cloth pads was The Grameen Foundation, Jehanabad Bihar, whose Director Mr Birender Sharma will have carried out the campaign with the help of volunteers from YUVATI (Youth Under Voluntary Action for Transportation), a non-profit working with The Grameen Foundation in the field of education for the girl child.
As our hands work fast and furious we think lovingly of our sisters in the villages and feel connected and happy to be able to do this.